J & M Medical - Terms and Conditions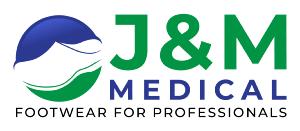 Fantastic range of hospital footwear, ESD shoes, Ladies shoes, Clogs, Mules and many more just click on the picture to see the best range in the UK
---
About Us
This web site is owned and operated by J & M Medical who are completely dedicated to your total satisfaction. If you have any suggestions or comments or if you need to contact us, please email us using the link on the store page or use the details below.

J & M Medical
Unit 1 Wheatsheaf Colliery School Yard
Southwick Road
Sunderland
SR5 1DD
England

Tel : 0191 567 4667
Email: sales@jmmedical.co.uk

Making A Purchase Making a purchase could not be easier. Just browse our store, and add any items that you wish to buy into the shopping cart. After you have finished your selection, click on 'Checkout' and you will be asked for a few details that we need to be able to complete the order.

We accept card payments. If you are shopping from North America or anywhere else, place your order and your card company will convert the transaction to US Dollars or your own currency.

We accept Visa and MasterCard. If you do not wish to pay online, you may send your card information via phone, fax or by post.

When confirmation of your order is received, this is to indicate that we have received your order. It does not indicate that a contract exists between us. We will indicate acceptance of your order, and hence a contract between us, when we send you an invoice. We have included this term to protect us in the case that a mistake has been made in pricing, we have inadvertently under-priced goods, or we are no longer able to supply a particular product for some reason. In the case of a change of price, we will always contact you first to ensure that the price is acceptable.

Our agreement with you

In this agreement, we are J & M Medical of Unit 1 Wheatsheaf Colliery School Yard, Southwick Road, Sunderland, Tyne and Wear, SR5 1DD and you are the person detailed on the Order Forms.

Our agreement is made on the date we deduct payment from your nominated payment method, details of which you provided on the order form. Only the goods listed on the confirmation of despatch email sent at the time of despatch will be included in the agreement. Our agreement includes all correspondence from us to you.

Basis of Sale
The terms of this, Our Agreement with You, shall govern our contract to the exclusion of any other terms and conditions.

Any typographical clerical or other error or omission in any sales literature price list acceptance of offer or other document or information issued by us is subject to amendment by us where reasonable in all of the circumstances to do so.

You are responsible for ensuring the accuracy of your Order and the details provided in your Order Form.

The quantity and description of your chosen products shall be those set out in the Order Form unless we subsequently agree otherwise.

FORCE MAJEURE
We shall not be liable to you or be deemed to be in breach of this Agreement by reason of any delay in performing or any failure to perform any of our obligations if the delay or failure was due to any cause beyond our reasonable control. Without prejudice to the generality of the foregoing, the following shall be regarded as causes beyond our reasonable control:-

Act of God explosion flood tempest fire or accident.
War or threat of war sabotage insurrection civil disturbance or requisition.
Acts restrictions regulations by-laws prohibitions or measures of any kind on the part of any governmental parliamentary or local authority.
Import or export regulations or embargoes.
Strikes lock-outs or other industrial actions or trade disputes (whether involving employees of us or of a third party).
Power failure or breakdown in machinery, shutdowns & holidays taken by suppliers,
Shipping And Handling Carriage charges:

UK Mainland. Delivery is included in the price at checkout.
Europe: Delivery charges are applied when checking out.
Northern Ireland Delivery charges apply at checkout.
Worldwide: Delivery charges are applied when checking out.
Exchange items may incur delivery charges if not our fault
Delivery charges include the cost of postage, handling and admin fees.
Delivery Schedule We deliver your order right away as long as its in stock. We will normally send your order to you in 3 days, business days IF THE ITEM IS IN STOCK. International orders are generally received in under 14 days.

Out-of-stock items can take up to 21 days for delivery.

You must inform us within two working days if the goods are lost or damaged in transit so that we can make a prompt claim against the delivery company and correct the problem. Please quote your order number in all correspondence.

You agree that proof of delivery supplied by our delivery company is sufficient evidence to establish that goods have been received.

Stock Availability
Not all Items on our website are held in stock in the UK, if the item you order is held in stock in GERMANY we will email you informing you that your goods will be delivered from Germany, Normally 10 to 14 working days delivery time in this case.

The confirmation e-mail you receive is a confirmation that we have received your order and not a guarantee of stock availability. In case the clogs are not in stock we will make the clogs or in the unlikely scenario that we are unable to fulfill your order, we will cancel and/or refund any unavailable items and we will do our best to let you know as soon as possible.
Back Orders
If your item is not in stock, we will back order it for you. You will always be emailed with the option to cancel your order if you would rather not wait.
Tax Charges
UK orders are subject to 20% VAT.

European orders are subject to V.A.T.

Other countries Worldwide are V.A.T Free.
Credit Card Security
When the order is placed at our website, credit card numbers are encrypted using 128 bit encryption. They are only decrypted after they reach our computer. They are not held in clear text on any web site.
Guarantee
We guarantee your satisfaction. <All of our products come with a 14 day no quibble guarantee.

It is important that you read these terms and conditions as the use of our web site is subject to them.

UK law is the applicable law.

We abide by the rules stated in the Consumer Contracts Regulations June 2014 (as amended) and the Electronic Commerce (EC Directive) Regulations 2002

Your Order
When buying goods and services on the internet the consumer is entering into a legally binding contract.
A contract in respect of the products supplied by us to you comes into effect when we have accepted your order subject to stock availability and notified you in the form of an email. We reserve the right to substitute any item for one of a similar kind should the need arise.

Complaints Procedure
In the unlikely event that you have a complaint against www.clogsupermarket.com or one of it's products please send an email to sales@jmmedical.co.uk or write to the address below.

J & M Medical
Unit 1 Wheatsheaf Colliery School Yard
Southwick Road
Sunderland
SR5 1DD

Reaching Us
If you need to reach us, please email us using the link on the store page, alternatively, you can call on 01915674667 (International +44 01915674667) or write to us at Unit 1 Wheatsheaf Colliery School Yard Southwick Road Sunderland Tyne and Wear SR5 1DD United Kingdom
sales@jmmedical.co.uk
Privacy Policy
J & M Medical do not disclose buyers' information to third parties other than when order details are processed as part of the order fulfillment. In this case, the third party will not disclose any of the details to any other third party.

Data Protection
We understand the importance of protecting your contact information. All transactions that you initiate with us on this website are confidential, your details will only ever be used for the following;
To process your online order with Worldpay payment platform, or Paypal
To provide you with the most efficient possible service.
We will never take more information than is necessary to process your order.
We will never pass your personal information onto third parties.
We will only use such information given at the time of ordering or when making an enquiry by whatever means is collected lawfully and in accordance with the GDPR.
Cookie Policy
Cookies are only used on this website where it is necessary to process your order.
Cookies are used on this shopping site to keep track of the contents of your shopping cart, to store delivery addresses if the address book is used and to store your details if you select the 'Remember Me' Option. They are also used after you have logged on as part of that process. You can turn off cookies within your browser by going to 'Tools | Internet Options | Privacy' (in Internet Explorer) and selecting to block cookies. If you turn off cookies, you will be unable to place orders or benefit from the other features that use cookies. Data collected by this site is used to:
a. Take and fulfil customer orders.
b. Administer and enhance the site and service.
c. Only disclose information to third-parties for goods delivery purposes.
Returns Policy Your rights to return goods are protected under the June 2014, the Consumer Contracts Regulations
All returns are subject to a £4 charge to cover restocking and admin fees (At our discretion)

You are entitled to cancel your order and return the goods within 14 working days for a refund or exchange, if you are in the UK. Do this by contacting us by email or telephone and quoting the order number supplied to you.Your refund will be paid within 30 days. You are responsible for the cost and risk of loss or damage when returning the goods, so you should take out enough postal insurance to cover their value.This cancellation policy does not affect your rights when we are at fault - for example, if goods are faulty.

Exchange Items
If you return the goods for exchange, then return them again for refund, we reserve the right to charge you for the extra delivery cost we incurred on the second delivery charge, which will be deducted from your refund.

Any goods returned should be in saleable condition. If the goods are returned in an unsaleable condition due to damage to the box or product, you will be subject to a 20% charge, for reboxing and making the goods saleable.

These terms apply to your order. We may change our terms and conditions at any time, so please do not assume that the same terms will apply in the future.

None of these terms affect your legal rights and these are not diminished in any way. If any term is held to be invalid under any applicable statute or rule of law, that term is automatically omitted from the terms to minimum extent necessary to comply with the law and without affecting the validity or enforceability of the remainder.

Returns
A deduction can be made if the value of the goods has been reduced as a result of you handling the goods more than was necessary
We ask that you return the goods to us, in their original condition and with the original packaging, within 14 days of receipt. On receipt of the goods we will refund within a maximum of 30 days less any admin charge if applicable.
We do not refund if the shoes show signs of being worn more than necessary for fitting purposes.
World Wide deliveries we do not refund the cost of postage.

On return of your goods you may request replacement products, we will despatch these to you subject to availability.

Faulty Returns
For Faulty goods, please contact us to arrange their return upon receipt we will either refund in full or despatch an alternative.

Sales Items
Items in on our sales & going cheap pages are not covered by our 14 day returns policy, as they are discounted due to end of line they are not returnable, no refunds will be given on sale items.
Remittance Terms
We will send a confirmation email by way of acknowledging your order within 24 hours. This email does not constitute acceptance of your order by us

If your chosen products are in stock your order will be processed. Payment will be deducted for your chosen products, from your nominated payment method.